Media and entertainment businesses consist of various moving parts. Sales teams require accurate, granular availabilities reports to clearly identify and exploit every revenue opportunity. Acquisition teams need to analyze content metrics in order to properly evaluate future business opportunities. Marketing teams need a breakdown of all costs incurred during pre-production, filming, and post-production to determine how much money is leftover for promotions. And finance departments have to be able to budget and forecast, properly recognize revenue, calculate royalties, and accurately report back on all of those details.

While these departments have their own unique responsibilities, they all need to be able to work together seamlessly to drive overall business success. Unfortunately, for many years, they have operated in their own silos, utilizing discordant systems for rights management. Attempting to maintain this decades-old business approach not only puts a major strain on productivity and decision-making, but on the complex processes surrounding financials.
New Revenue Streams in the Digital Age
There was a time when the media & entertainment industry was much simpler –– the days when movie studios, theater owners, and broadcast television producers reigned over Hollywood. But that was then, and this is now.

Today, Netflix, Hulu, Amazon, HBO, and YouTube have become the new household names. Not to mention, there is more content being created than ever before, and younger audiences want to be able to stream it from their phones or tablets whenever they want, wherever they want.

Given the myriad revenue streams that exist in today's digital world, M&E businesses no longer have the advantage of depending solely on spreadsheets or homegrown systems. This is because the traditional theatrical distribution model typically involves a single title as well as months of planning and preparation prior to release. On the flip side, SVOD deals have a much faster time to market and require the management of hundreds of titles, terms, and commitments all at once.

Things get even more complicated when it comes to royalty payments. Traditional rights are cut and dry. With SVOD, however, deals can be structured so that payment is per price, per unit, per hour, or even per percent of an hour. Needless to say, it's a complex beast, and even the most seasoned industry veteran wouldn't be able to tackle this immense workload without difficulty.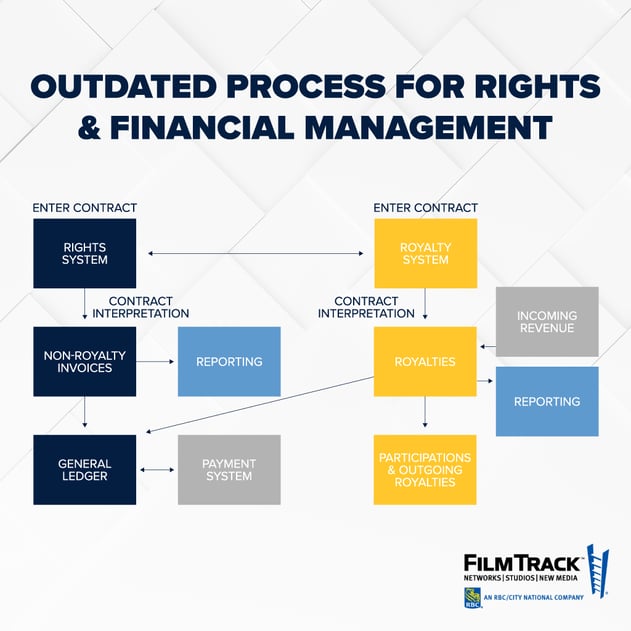 Perhaps the most problematic part of all, though, is the utilization of multiple systems. Even though businesses take great measures to ensure that their data sources are integrated, issues can still arise. Because no matter how hard you try, separate systems are always going to run asynchronously.

In order to truly maximize workflow efficiencies, media & entertainment businesses need to adopt a single, unified solution.
Financial Management Made Simple
A central repository unites rights and availabilities with important financial functions, allowing vital business information to be easily shared across one cohesive network. Furthermore, automating data entry and tedious manual tasks ensures that businesses don't wind up with isolated islands of inaccurate, misleading information.

Let's take a look at how a unified solution such as FilmTrack can simplify complex financial business operations.
Royalties & Participations
One of the downfalls of varying systems is that the contract and rights workflow is often disconnected from royalties and participations workflow. As a result, many businesses are forced to complete labor-intensive manual tasks just to obtain the information they need. With a solution that has a built-in royalties engine, however, the work is done automatically. With the FilmTrack suite, businesses are able to define, ingest, validate, calculate, consume, and bill dynamically, all with the simple click of a button.

Advanced Financials
Legacy systems typically don't have the ability to handle detailed financial functions such as invoicing, scheduled collections, billing groups, fee calculations, and revenue recognition. The benefit of working with a comprehensive platform such as FilmTrack is that businesses are able to manage these types of multilayered functions without the need for multiple systems or reports. Moreover, contractual rights are tied directly to financial elements to ensure properly detailed attribution.

Employing expensive standalone tools to track and manage royalties, participations, and financials is an outdated practice in today's fast-paced marketplace. By investing in a single source of truth, businesses can minimize the risk of human error, reduce workload, and obtain a holistic view of overall business performance.
Contact us to request a demo and experience how FilmTrack has the simplest and most powerful end-to-end rights management solutions in the entertainment industry.