Film and television content library values have fluctuated wildly as the entertainment industry has changed. The success of streaming video-on-demand (SVOD) services has prompted numerous media companies to launch SVOD channels to capture direct-to-consumer subscription revenue.
While the focus for these platforms is often on new films or television series, most of the content is composed of library titles produced years or even decades earlier. Now for the million-dollar (or more) question: what is all this older library content actually worth?
Why Valuing Your Content Library Matters
Your content library should be the ultimate source of truth for all your titles. It should contain all the deals you've conducted and all the financials related to those types, be it film, television, or other IP. Not being able to exploit all the contractual rights involved, now and in the future, can significantly decrease a title's value.
When you situate your data to be your single source of truth, "emergent data" is revealed. Emergent data tells you where something is potentially available or where it can be exploited. Having insight into emergent data lets you calculate complex combinations of sales. With such insight, you can figure out what an opportunity would be on a title in July, for example, that is not available right now.
Calculating Content Rights Values
To accurately value your library, you must understand your opportunities as well as your risks by considering the following:
Availability.

Fully monetizing your library involves knowing what you have, what you don't have yet, and perhaps most notably, when something will become available for sale.

Quality.

Although two titles may appear similar, they can be valued much differently, depending on age, genre, actors, directors, ratings, and revenue generated.

Market.

Consider the rapid change that has occurred within the entertainment industry. Although recent financial performance can be a good indicator of future value, you can't assume consistency year after year.
It's also worth noting that different organizations can value content differently, based upon their assumptions and capabilities to monetize a title. Therefore, you must consider that as a factor when valuing your content library.
The Challenges of Valuing Your Content Library
The value of a content library represents a bundle of rights to sell and distribute a series of titles in jurisdictions throughout the world. However, herein lies the challenge - the value of this package of rights changes significantly according to:

Primary sources of revenue

Anticipated future cash flow

The ebb and flow of market forces
A terrific example of the ebb and flow of market forces is with the stay-at-home orders initiated during COVID-19 that spiked demand for streaming content because less new content was being produced, and sports content was temporarily nonexistent.
Title Categorization
In addition, Individual titles within a library must also be reviewed and categorized according to their potential value based upon factors like recent revenue generation, time since the initial release in theaters or on television, overall quality, age, exposure to domestic and foreign markets, and more. Something else worth factoring in: an owner tends to monetize the lion's share of the benefits of ownership within three years of the first release.
The Need for a Rights Management System
Content companies are always focused on monetization. They own a library, and they need to ensure that they're exploiting it to its fullest extent. However, part of that conversation is not just knowing what they have to sell but also understanding what they don't have. And if it's not available, when does it become available? That is when you can reach true exploitation. Although it seems simple initially, it's often not - as titles grow in your library, a highly complex math problem evolves.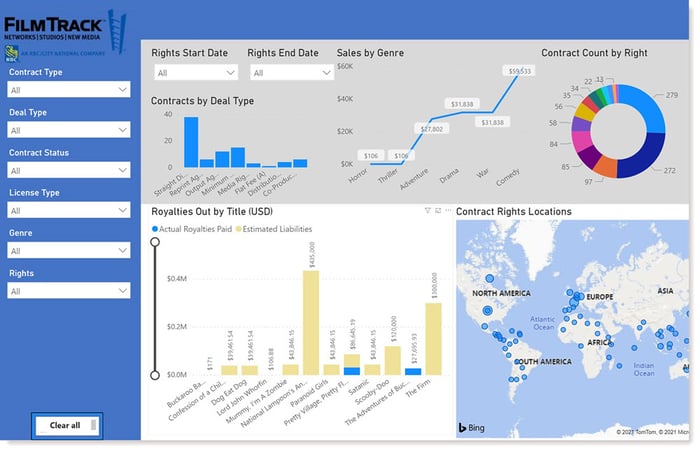 Options for Valuing Your Content Library
Single source of truth (SSOT) software makes it possible, and even relatively simple, to reference VOD deals for multiple media pieces worldwide. The most agile rights management solution will encompass all your titles onto a single source of truth, allowing your organization to quickly:
Calculate complicated royalty payments

. At one time, royalty calculations were relatively straightforward, with minimums, accelerators, and simple calculations like total box office. However, new parameters like subscriber count, clicks, view, and many more now need to be tracked due to the changing streaming landscape.



Stay on top of other revenue sources

. Payment calculations for advances, guarantees, and fees have increased in complexity. This is due to more availability and distribution platforms, additional currencies, the timing of payments, and deals based on metrics like performance or downloads.



Reduce liability and financial risk

. The current dynamic environment makes tracking opportunities more complex, putting companies at greater risk for infringement. Keeping track of this growing Rubik's cube of data requires more than spreadsheets have to offer.
How FilmTrack Can Help
Continually changing your system to keep up with shifts within the industry is unsustainable. However, FilmTrack has flexibility at its core. Our cloud-based rights management system provides stability and consistency over the long haul, no matter what changes disrupt the industry.
To find out more about how FilmTrack can help you monetize the value of your content library, contact us today.