When renowned public broadcasting station WNET (parent company of THIRTEEN and WLIW21) sought a solution to share content with public media stations across America via a Veterans Content Sharing Initiative, they came up short. Nothing on the market could give them the dynamic backend functionality they required. However, when WNET partnered with FilmTrack, they were given custom tools to achieve an ongoing organizational goal: to provide robust digital capabilities that foster content sharing and collaboration between public media stations nationwide.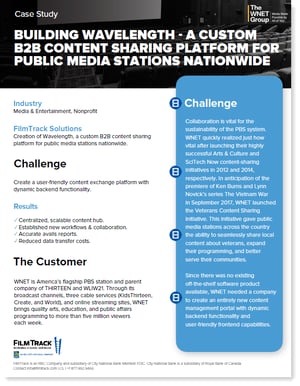 You can learn exactly how this was accomplished in our new case study: Building Wavelength - A Custom B2B Content Sharing Platform for Public Media Stations Nationwide.
FilmTrack gives content managers:
Superior flexibility

Unparalleled accessibility and ease of use

Custom collaboration tools

And much more!
Download the case study to see how FilmTrack custom-built precisely what was needed to allow WNET to easily collaborate between hundreds of public stations throughout the country with user-friendly frontend capabilities.