Simply rolling out technology to manage your content library and titles isn't sufficient anymore. The most successful software deployments involve partnering with a rights management vendor with a holistic implementation and project management approach.
In our new guide, Implementing Rights Management and Royalties Software, we offer insights into maintaining business continuity and exceeding your company targets through innovative connections of critical systems.
Our guide covers the following: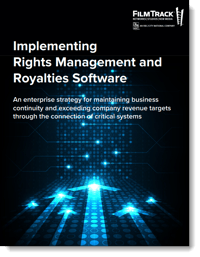 Challenges associated with implementation.

Many rights management vendors rely on product experts with limited expertise to implement their products. In absence of a formal process, they stand their system up and often encounter many unforeseen issues that nobody considered for the client beforehand.

Implementation and project management. A holistic approach to implementation is required, meaning the PMO develops a thorough understanding of a client's systems (technology) and partners (other vendors) and considers the project and its success from a universal viewpoint vs. merely "standing the system up."
Integration and Orchestration. Implementation

managers need to ensure cohesive orchestration across multiple systems. Business leaders often choose software vendors by price instead of the solution's effectiveness at addressing their issues on setup and long term.

And much more!
Master your rights management with expert software implementation insights. Download the guide to learn more!

FilmTrack is an RBC Company and subsidiary of City National Bank Member FDIC. City National Bank is a subsidiary of Royal Bank of Canada.
This article is for general information and education only. It is provided as a courtesy to the clients and friends of FilmTrack. FilmTrack does not warrant that it is accurate or complete. Opinions expressed and estimates or projections given are those of the authors or persons quoted as of the date of the article with no obligation to update or notify of inaccuracy or change. This article may not be reproduced, distributed or further published by any person without the written consent of FilmTrack. Please cite source when quoting.