Art flourishes in times of stress, be it economic depressions, global conflict, or the recent pandemic. This was proven again in Toronto earlier this month when the 47th annual Toronto International Film Festival (TIFF) returned after a two-year hiatus.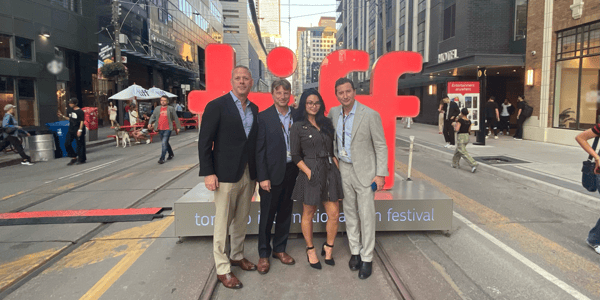 FilmTrack Team at TIFF 2022 (L-R):
Michael McGuire (COO),
Stephen Kassin (President/Co-Founder)
Angie Romasanta (Customer Success Manager),
Jason Kassin (CEO/Co-Founder)

This year's TIFF featured eleven days of international cinema, special events featuring some of film's biggest names, and diverse and innovative perspectives on the art and business of film. The full lineup comprised 200 feature films and around 40 shorts, the festival's most extensive offering since the pre-pandemic 2019 edition.
TIFF drew thousands of people to Toronto – among them film lovers, filmmakers, talent, media, and industry professionals – to celebrate the power of film. Here are some takeaways from TIFF '22:
Together again. After a two-year hiatus due to the COVID-19 pandemic, the festival welcomed the return of its networking and gala events. The vibe was extremely positive, a reunion of sorts, and attendees were delighted to get together and conduct business on a personal level once again.


Streaming remains strong. Streaming became a significant force during the pandemic, which has not changed. While the big streamers continued to be the biggest buyers at TIFF, other vital business was being conducted as well, largely due to the high level of content produced. This is an extremely positive trend.


Solid output. Despite the pandemic, the output for the last few years continues to be impressive, the content was awe-inspiring, and some great films were made, which will only increase interest in the buying and selling of titles.


Strong supporters. FilmTrack owner Royal Bank of Canada (also the owner of City National Bank) was one of the major sponsors of TIFF '22. In addition, FilmTrack and RBC co-sponsored an event during the festival that illustrated the significant overlap between what the two organizations do. RBC continues to be a massive supporter of the arts and the city of Toronto.


Something for everyone.

TIFF is a great place to visit for anyone looking to acquire or sell content. The quality of films, the content, and the programming are spot on – Toronto is an excellent town for cinema lovers.
Shifting perspective.

Those from the industry's business side must be as familiar as possible with the trends of the products they are helping to distribute and monetize. Thinking of titles as living, breathing pieces of craft and art instead of widgets will help companies distinguish themselves from their competitors.
The industry has adapted, and film is no longer just entertainment – it's content that can be shown, viewed, acquired, and monetized. While we're still in the very early stages of what the current distribution model will eventually look like, and it's too early to make any predictions, the ground has shifted below us.
There are many ways to lay out a story now; episodic and long-form content blend considerably these days. To keep up, technology vendors in the entertainment management space need to be looking to solve emerging problems, not getting stuck in yesterday's issues.


Evolve With the Industry
FilmTrack has flexibility at its core. Our cloud-based rights management system provides stability and consistency over the long haul, no matter what changes disrupt the industry.
To find out how FilmTrack can help you monetize the value of your content library, contact us today.